Web SEO Houston offers a quick & easy way to monitor your local search performance. Track your most valuable keywords and locations in Google, Yahoo & Bing. Receive automated monthly reports and track changes with interactive charts.

Essentials of Local Search Rank Monitoring Service
1. Track results in all main search engines
Face it, the search engine algorithms determine everything we do as SEO Professionals. Monitoring your search rankings in Google, Google Places, Yahoo, Yahoo Local, Bing & Bing local is the most important aspect of Local SEO. It allows you to
track both organic and local search results
down to a depth of 50 results. (that's the 5th page, you don't want to be there)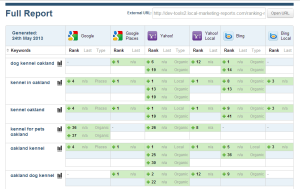 2. Tracking both "organic" & "local" rankings is key
What that means is you get a complete view of your search performance. Track results for your website (domain or specific URL) and for your local search profile (e.g. Google+ Local page). You also can see where your local profile ranks in both the main search results and in pure local search results. Remember, it's all about local
3. See Search Results for Specific "Locations"
If your business services multiple cities you will love this feature. Our Local Search Rank Monitoring Service can enter the location where you want to search from. Example; your printing business is located in Humble, TX but (you want to market to small businesses in Houston) what results come up when we search "business printing service" from Houston? The "locations" function enables you to see search results which a local searcher sees in the city & zip code they're located in.
4. Visualize changes in your search rankings
With a monthly Local Search Rank Monitoring contract from Web SEO Houston your Local Search Rank Monitoring Service will compare current search rankings with past rankings using our interactive charts. You can view results for your whole campaign or deep dive into individual search terms and see how they have changed ranking over the course of your campaign.
5. Ranking reports with interactive charts
Depending on your contract you will receive customized ranking reports on a weekly/monthly or quarterly schedule. These reports are available as PDF or as interactive, online (HTML) reports which makes sharing with your staff a cinch! As always a Web SEO Houston representative is available to answer any questions you may have about your reports via phone or email.
Local Search Rank Monitoring Service low as $32.80 mo. with yearly paid contract
To talk to a Web SEO Houston representative about our Local Search Rank Monitoring Service please use this form or call (281) 706-9450 Today.